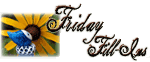 1. After a while,
I get tired of going back and forth between Missouri and California.
2.
I do get to see the grandsons and my daughter
at least.
3. Well, anyway,
it puts us closer to full Missouri residency
.
4.
Thunder and lightening storms this week, were very scary
to me.
5. I always
want to put a pillow over my head like my Mom use to do.
6.
The thought of s
elling my house
keeps me going;
7. And as for the weekend, tonight I'm looking forward to
an Amarillo TX, motel room
tomorrow my plans include
Flagstaff AZ
and Sunday,
I want to arrive in California and sleep in my king sized bed!
Well as you can see we are off to California again today and I can't sleep. We get to see Caшa, Лука, our grandsons, but that is the only blessing. We are very tired of making this trip and have looked for almost any reason this time, to postpone it, however, we have to go and get this move behind us.
As a final post for a few days I thought I would try the Friday Fill Ins.....some of the folks who do the Saturday 9 meme do this one as well