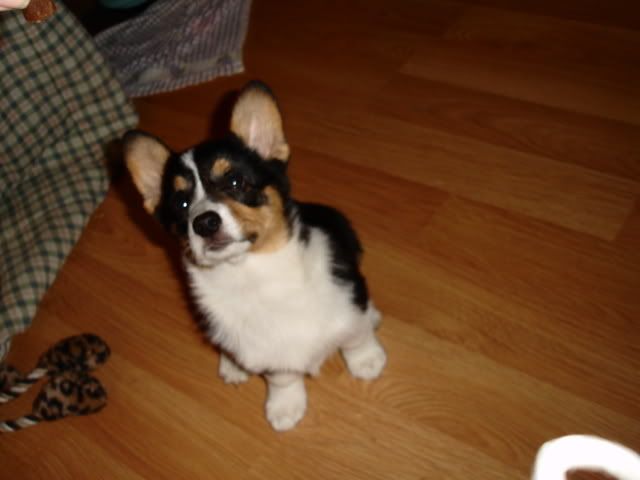 Gwinnie is 3 months old and we have had her three weeks now. She essentially came house broken, she has had only a couple of accidents and sleeps thru the night in her crate.
What a smart dog a corgi is.... at least my corgi is smart, and adorable and loving. Many large sloppy kisses every morning then all day long. She does chew alot, however we try to distract her, and with the crate training she is not left alone to chew stuff that she shouldn't. Corgi's have really short legs and they sleep on their back quite a bit, so she is very funny even when she is asleep, (I could say the same about Mr Bankerchick!)
DD2 who is here all the time, has taken a great interest in the pup and we all are in love. She makes us happy even when it is hard. We all walk around the house talking to the dog, smiling a lot and making funny noises. She pulls DD1 hair and there is a funny touchdown dance they both do, and at the end they are both pooped out.
She fetches and sits and is afraid to go out the front door. We have started to leash train but she does not want to move. Walking outside is still not a skill she is happy with yet, but Mr BC perseveres.