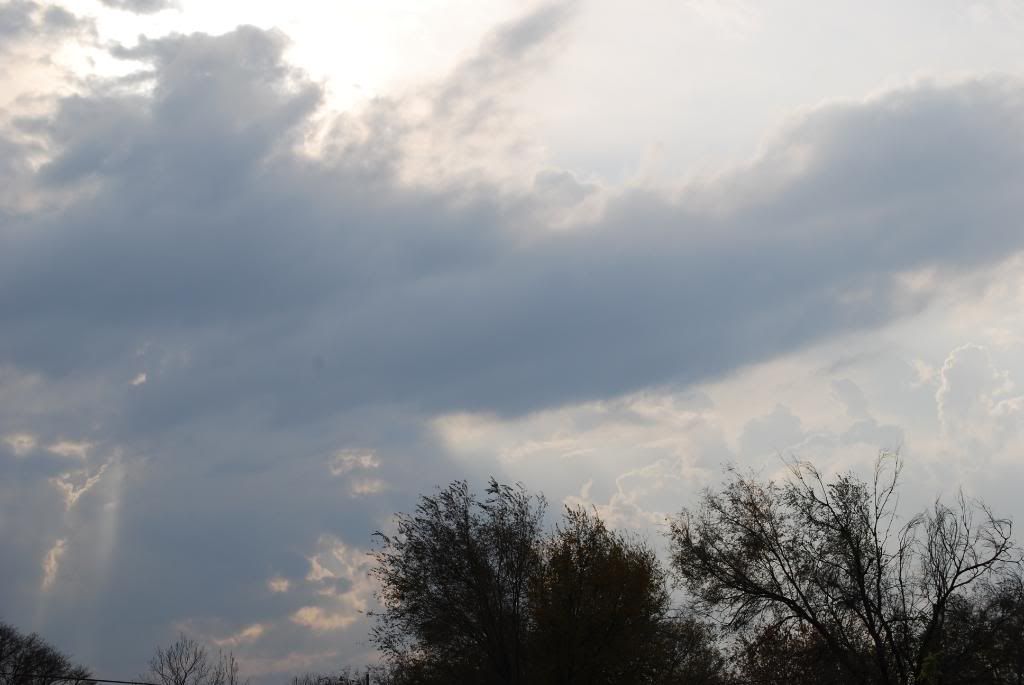 The sky has not been as peaceful as this in Joplin lately!
With only 9 weeks left to retirement, I sent my husband off yesterday, to Tornado Alley, to move some of our belongings to our new home in the Joplin area. There were a lot of ....What Ifs... with this trip. What if he had made the trip last week, as originally planned? He would have been in the Joplin area when the Tornado hit. What if he had left on Monday instead of yesterday as planned? He would have been on I-40 about the time that tornado hit the Oklahoma City area, yesterday. With this tragedy we are greatful that no one we love and care about had their lives upset by the big one that hit Joplin. But, I am sure many of the folks we know in Carterville, are aware of friends and family, impacted by that terrible Storm.
My niece, said Monday, "Auntie Bankerchick! Really? " "You want to move there?" And it does give you pause.... Mr Bankerchick is from Carterville and I lived there for a few years with him, when we were first married and going to College. We spent a few hours during that time, in the cellar, when the warnings would come. So I know a little about storms. However, Joplin and even the entire US, has not seen a tornado season as destructive as this year. And I pray that we never have to endure the scope of this tragedy.
Every place the Bankerchicks have lived during their 44 years of marriage has seen some type of drastic conditions, Hurricanes in Florida, Blizzards in Michigan and Earthquakes in California, so yes Megan....Really! There are many ways we can meet our end and we can hope it will be in God's time, peacefully and in our own bed. In the mean time, retirement in a small town beckons, and I am eager for the challenges facing me during this great time of my life.