Does anyone else name their cars? This has been something we have been doing for the last, almost 40 years. Apparently this was something Mr.Bankerchick and his dad often did. Even my first car a '54 Ford was, not so lovingly, called the Green Monster!

We started this tradition together, in our early married years, when we bought our first of many sports cars. We got a brand new '69 yellow, Datsun 1600 roadster. When we were driving it home, it started to overheat, so we parked it in the drive way and called my cousin (who was the service manager at the dealership) to rant about our brand new car that didn't work! He came and looked it over, yes it seemed to have water in the radiator., hmmm…he took a hose and put it in the radiator, low and behold it had a bubble and just needed to be burped, like a baby. Hmmm…yellow like a duck…Baby Huey! The name stuck, everyone in the family called it Baby Huey. It was an appropriate moniker, as he was very yellow and had a black convertible top. We drove that car for 5 years when DH had to be sensible and so retired it (sold it to my cousin) when babies came along.
Mr. Bankerchick worked over the years for Toyota , Hyundai, Isuzu, and GM and we had our share of company cars and employee lease cars and we never named them. It was only when we started buying cars for me and the kids that a new or used car was bestowed a name. I use to drive some of the older cars listed in the kids pictures below. I also drove a wonderful Isuzu pickup named Big Blue. Then Mr Bankerchick drove it when I got the aptly named Miss Tiffany. Last year we traded Big Blue for Ruby Big Rig.
The biggest problem is now that we have names for our cars, we find that we have anthropomorphized
transportation units.
We have been heard talking to them like we expect an answer. "How to you feel today Miss Tiffany?" "Is the load too heavy for you Ruby?" etc.
The girls have continued with the tradition, although SIL calls my DD1 car by name, he does not appear to name his own transportation. We will have to work on that! DD1 calls it SallieMae as this Scion was all she can afford to drive while she is paying off law school debt

During high school, college, and pre-SallieMae days, she drove BB and Big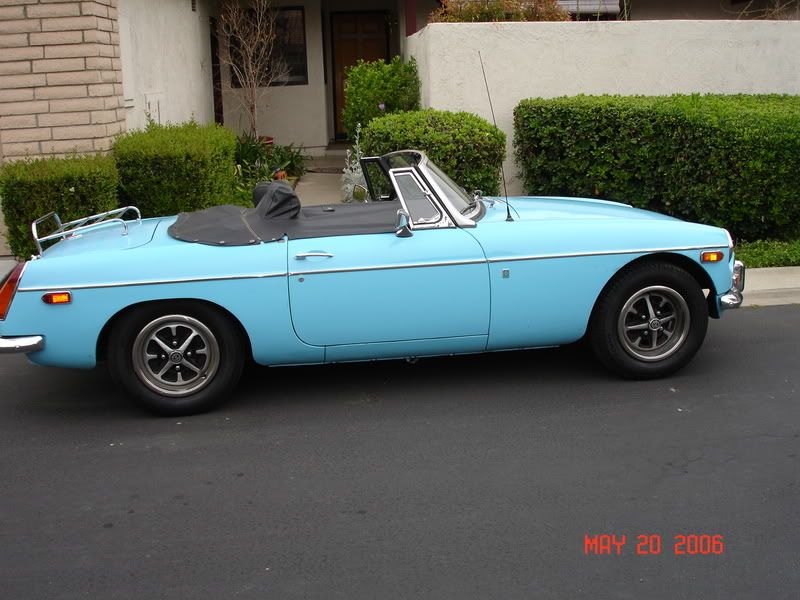 Red and a beat-up unnamed, (at least not spoken out loud in polite company) '74 VW Bug. That '88 Toyota helped my brother remodel his kitchen this year and it is still running.

DD2 drives a New Beetle and I'll bet you can guess why she calls it Cricket. She also talks to and about Cricket.
She is rather fond of VW's and her first V-Dub was a cabriolet named of course Princess Cabrio-Leia. Ah..... Star Wars babies. It had taken it's previous owner thru college, DD2 drove it thru college and my niece drove it for one year of college before the Princess finally was dethroned!

We have one more car that my husband has dreamed about for years, he bought it about 2 years ago and finally brought it home from the beauty shop fully restored, (I think) His 1954 MGTF. The tradition continues and we present: The Dutchess! Glamour Shots to come!